Every Building is a Passive Solar Building
Although the term "passive solar" is generally applied only to buildings whose primary heat source is the sun, the effect still operates on essentially every building because the sun still shines and windows still let it in. While the obvious difference is that traditional passive solar building have used quite a bit of glass, the more important difference is that the majority of buildings are designed ignoring the effect of the sun. This is somewhat like going outside in a T-shirt in winter and then having to exercise vigorously to stay warm, or going out in summer wearing a coat. Buildings everywhere not only are losing out on free solar energy, but they're often overheating or overworking the air-conditioner in the summer. Because energy has been relatively cheap, we've gotten away with such poor design.`
The typical situation is actually somewhat worse, because the typical building is grossly under-insulated. Because opaque materials absorb sunlight (particularly dark ones like common roofing shingles), the entire building acts like a mediocre solar collector: in particular one that tends to transfer much more summer sun than winter sun, adding to summer cooling loads while providing only a small winter benefit.
Unfortunately most of our urban areas are also laid out in total disregard to solar energy--their sun is blocked by either other buildings, or by trees. This affects not only passive solar, but the effectiveness of any PV system placed on the building's roof. Short of re-platting out our cities, there is still much that can be done, even if its only to make sure the roof is oriented so that we could install PV or solar hot water on it, but unfortunately many buildings even fail to do this.
Historically this disregard was mitigated somewhat by buildings having relatively small windows, and more recently by using glass that blocks 80% of the incoming heat, but unlike an overhang those windows block the incoming heat all year, rather than just in summer.
How much energy is actually wasted due to ignoring passive solar design principles is unclear, especially since lack of insulation is such a dominant factor. What is true is that in colder climates there is a very large lost opportunity cost in that good design could provide quite a bit of heat while, and that in climates with hot summers there is can be a significant savings in cooling loads with good design. At the risk of sounding like a broken record, the point here is that orienting correctly, putting windows on the south and designing the right overhang doesn't add any construction cost: the improved performance is essentially free.
Summary: No matter what type building and building site, its worth considering the how the effects of sun and wind on the site interact with the building's envelope, windows, overhangs, and mass.
---
Passive Solar of Analysis of Everyday Buildings
The following examples are all in the Seattle area. Most of them are south facades with a good sun exposure; the rest are western facades because those are most susceptible to overheating. None of the buildings are especially unique, they are just the examples that I happen to easily find while riding around on a bicycle1. Because "modern" style building use more glass, they are more affected by the sun, and hence are probably over-represented here relative to their occurrence. Older buildings are not immune, and I've tried to show many architectural styles.
The analysis done on each house is based on what can be seen from the street and assumptions: I assume the insulation level is somewhere between lousy and terrible, that there is no thermal mass, and that the glass is not the low solar heat-gain variety unless the building is quite new. What you do see is a sense of the orientation of the building, how much glass there is to soak up the sun, and what kind of overhangs are there to protect it. The idea isn't to critique these specific buildings, but essentially all of them.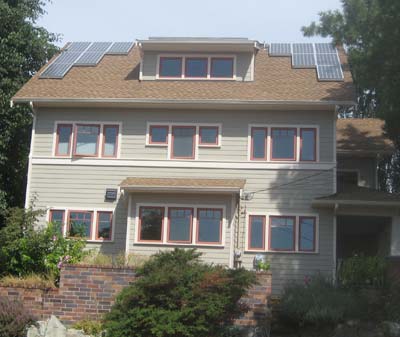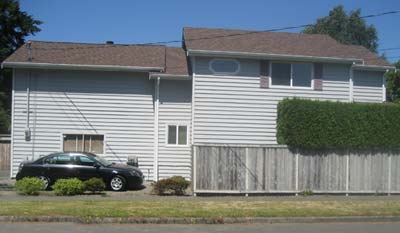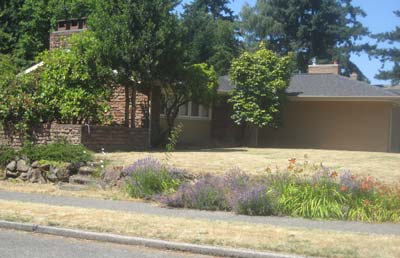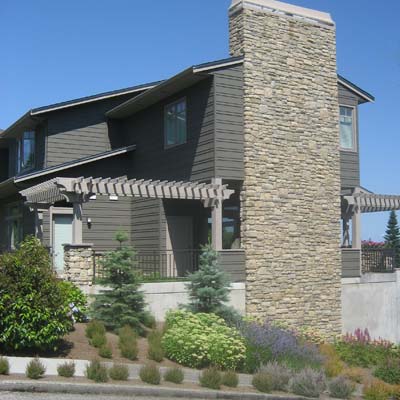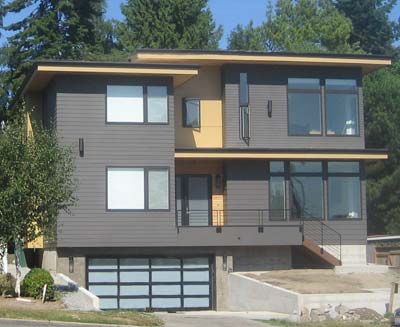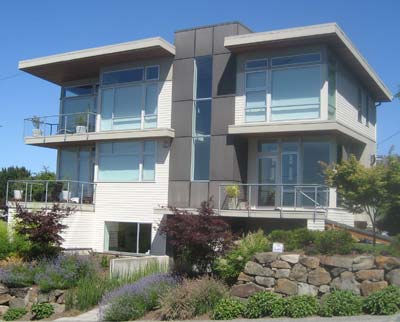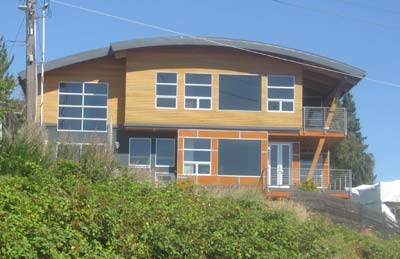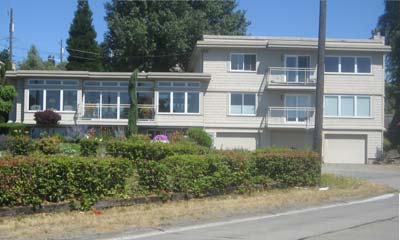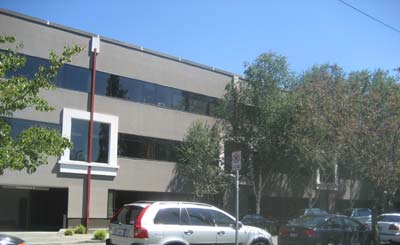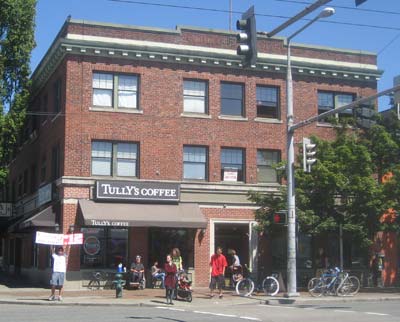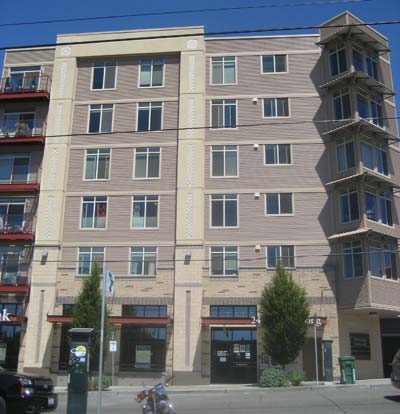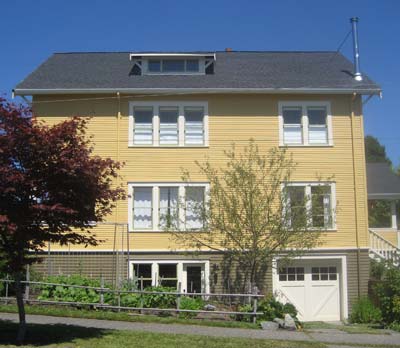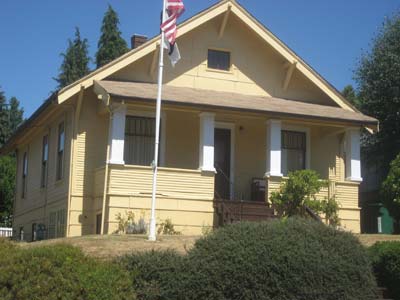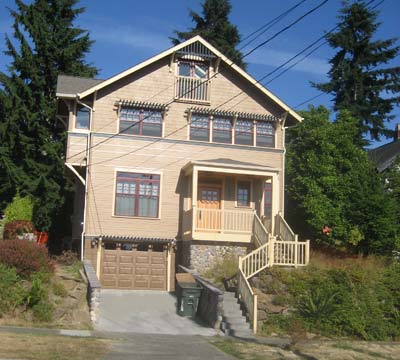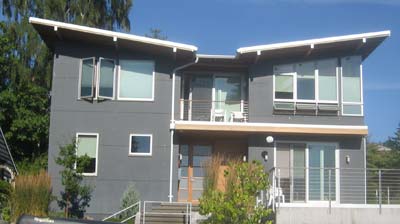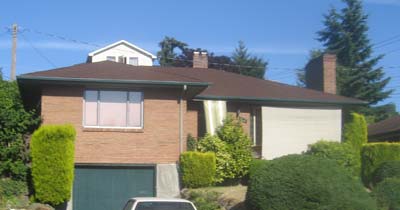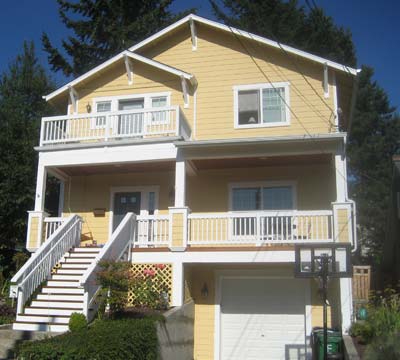 Notes
1: I've edited out house numbers, cars etc when possible to make these as generic as possible. The point isn't about the specific house in the photo-there are others like them.
2: By heating season, I really mean the spring/fall part of the heating season, since there isn't much solar gain in Seattle in the dead of winter. The ballpark sun angle for this season is 30° to 60° (out of a full range of 19° to 66°).
3: note that solar noon in Seattle is approximately 1:15pm PDT.
Resources
www.susdesign.com Numerous passive solar calculation tools.
www.wintersundesign.com/faqs.html More details info on making passive solar work in the northwest.