SIP Roofs
The main difference between using SIPs for a roof and for a wall is that a roof takes advantage of an SIPs ability to span very long distances without support. In fact structurally the two uses are very different: in a wall the load is down the length of the SIP and is carried mainly by the skin (the OSB) with the foam serving to tie the two skins together to keep them from bending. In a roof, the main force is spread out all over the panel and hence most of it is a bending force.
SIPs make very, very stiff roofs-so still that you have no sense of it moving at all when you walk on it.
As with walls, you can generally cut fairly sizable holes in the panels, for example a small skylight or a sun-tube. You can also cut larger holes, but if you do so, you will likely need additional framing.
In spite of the structural differences, the SIP is the same, and rather than repeat basic properties, you can find them all on the SIP walls page.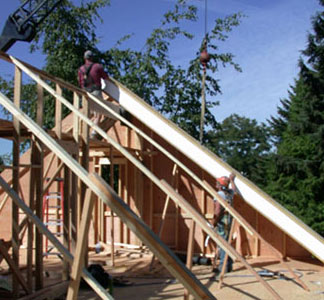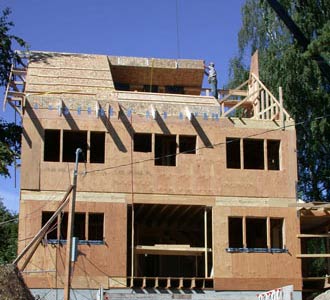 Summary: An SIP roof is somewhat more straightforward than SIP walls, but there is still a learning curve, and all the same caveats apply.