CA Cabin - Materials
Framing
Originally designed as a straw bale house, the house was built as a double wall instead as a cost savings measure. The framing uses mostly FSC certified sustainably harvested lumber, although it's sheathed in OSB which is not available as sustainably harvested. The builder chose to use 2x10 top and bottom plates, and the king studs are all 2x10s as well because the windows are recessed from the exterior by about 2-1/2". Using these larger top & bottom plates allows the both walls to be built and tilted up as a unit but increases lumber use and thermal bridging. Since this is a slab-on-grade house, there is some labor saving in attaching the inner wall to the floor-with a single bottom plate the whole thing is attached via the tie-down bolts, other wise the inner wall would have to be attached to the slab via masonry screws, ramset etc which is probably a couple of hours of extra labor.
It seems possibly that rather than using the larger king studs, the window rough opening could have been wrapped in plywood, and the recessed 2x4s that the window sits on nailed to the plywood--the only issue being whether this would be strong enough. While this would reduce wood use and thermal bridging, again its probably more labor: after both walls are up, you have to go back and install a plywood liner in the rough opening. Another option would have been to no do recessed windows--it would save labor and materials, but aesthetically the recess gives the look of traditional masonry (or straw bale) which we valued.
Contrasting these issues, the framing factor for this house would be high anyhow due being in the highest earthquake zone and having a heavy tile roof. The walls had to use 16"oc spacing and in addition there are the usual double studs at tie-downs and due to having a lot of south facing glass, the engineer used two Simpson strong-walls, which are huge chunks of solid engineered wood (full ceiling height, 24" wide and 3-1/2" thick). The inner wall could have been framed as 24"oc, but wasn't.
My observation was that building both walls at once didn't make the framing any simpler--in fact it seemed to confuse the framers at times and we ended up with many double studs on the inner, non load bearing wall. The bottom line is that double walls are just not as straightforward as it would seem.
Due to the rural location and lack of deconstruction activity, reclaimed lumber is not readily available, but the builder does keep all the usable scrap from other jobs and keeping moving it along until it finds a use (we used quite a bit of it), and also was able to reuse all the concrete form lumber as well. A cutoff pile was kept so all the blocking (like in the photo at right) was generally from the cutoff pile. The pile did get a bit wild toward the end of the week, so it got sorted mostly over the weekend.
Due to being in a high earthquake zone and having a heavy tile roof, the studs are all on 16"oc spacing. While the inner wall could theoretically have been 24" spacing (ie not load bearing) it was not done that way.
The ceiling and roof were frame with a combination of I-joists and trusses. About half the trusses are attic trusses, which used more lumber than conventional trusses but it's a good tradeoff because you get a lot of storage space in return. These trusses used 2x12 chords and had a 16' wide walk space. Due to both aesthetic reasons and fire code, the exposed eaves are done with 2x6 T&G and the rafter tails are 4x6's sistered onto the main rafters. The alternative would have been boxed in eaves or some combination of plywood covered in hardi-board--that probably would have been the greener choice (as well as being more fireproof) but wouldn't have looked as good.
What's probably more relevant is that we attempted to keep the size of the structure down, and we kept the shape simple so there is not really any complex framing. The layout was kept fairly simple as well, which hopefully means the house could be used by others with different needs, although putting only one bathroom in probably limits the use to a couple.
Concrete
The concrete in the house uses about 20% flyash, but its not clear what kind of flyash and whether it was a replacement for Portland cement or not. The house, guest house and pump house used a total of about 60 yards of concrete: about 24 yards went into footings and stem walls, with the remaining going into slabs. The main house has two large porches which account for at least 6 yards of the total.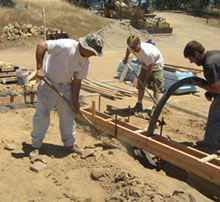 In a slab-on-grade house, the footings are usually just dug into the ground rather than made with forms, so the actual footing tends to be bigger than specified. What that means is that you potentially end up with quite a bit more concrete than you likely need because the building code load requirement already has a safety factor built in, then the engineer tends to round that up a bit more and then the excavator is required to dig a ditch at least that size, and in most soils that ditch does not end up square like in the drawings, but ragged and larger. Contactors have some incentive to try to limit how much extra concrete blows out the edges, so they will shovel dirt on it as it oozes out, and this stops it flowing.
Given that the ground is fairly warm here, and that the concrete acts as thermal mass, slab-on-grade is probably the best way to build in this climate and so there is no obvious way to reduce concrete use, but certainly one has to hope that the slab has a very long lifetime which would make its high embodied energy worth it.
Finish Materials
A significant amount of the finish materials in the house are reused/reclaimed, including using quite a bit of wood from on site.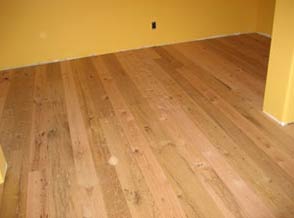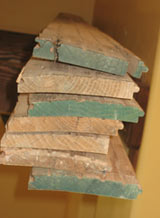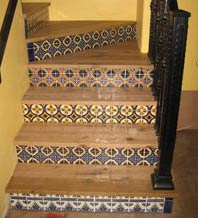 Reclaimed oak barn wood flooring (left), reject flooring (center), oak barn wood stair treads (right).
The main floor was done with a gallon of acid stain and a couple of gallons of commercial wax finish. The second floor office has re-milled oak barn wood from the midwest, and the stair treads going up there are made from the same material. The flooring ended up coming from two sources: the first wood we bought cupped badly soon after delivery and as a result nearly half of it was unusable as flooring but luckily the flooring installer had quite of bit of similar wood so the rest was purchased from him. Since the wood was delivered in the winter, the suspicion is that whoever milled it did it wet, and so it cupped as it dried. The flooring was from 2x6 stock, so the boards were about 5-1/4" wide: had it been milled down further closer to the standard 2-1/4" width, the cupping would likely have been much smaller. The lesson there is to be extra careful when ordering wide flooring--make sure your supplier will guarantee it won't cup or otherwise order the thin stuff.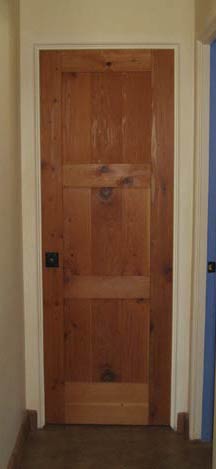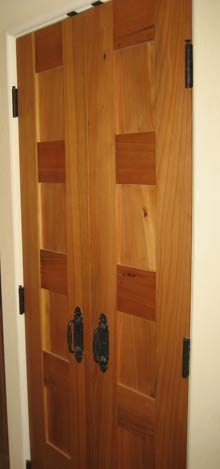 Reclaimed construction lumber door (left), urban salvage cypress (center), salvage redwood (right).
All the interior doors in the house are from reclaimed wood: the main doors are made from reclaimed construction lumber, and made by Liberty Valley Doors whose factory is solar powered. We made four closet doors on site using urban salvage wood-in this case cypress, which came from a local tree that was removed and then milled locally by Pacific Coast Lumber. The lumber we bought came as variable length 2x6s because they were originally milled for someone else who rejected them. Although we might have ordered different sizes, we were able to make everything out of this size. We also made one closet door our of a redwood deck we had which was also 2x6s.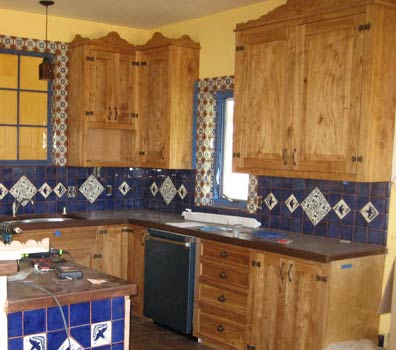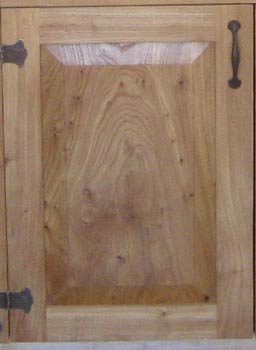 Urban salvage cabinets (left). Close-up of a door (right).
The kitchen and bathroom cabinets are made largely from urban salvage Elm, also sourced from Pacific Coast Lumber. The sides, top, bottom and door panels are all one piece which is something you don't see in cabinets made after 1930. We were able to do this because we bought slabs or tree, and the slabs were very wide. The lower cabinets are on prefinished birch plywood boxes made in the USA by Colombia forest products. We would have used FSC plywood, but it is not readily available locally. The upper boxes are all solid elm with 1/4 plywood backs. All the shelving in the kitchen and bath cabinets is urban salvage cypress. Even the drawers in these cabinets are made of urban salvage lumber-in this case more cypress that we had left over from the wood we used for closet doors and shelving (although admittedly the drawer bottoms are 1/4 plywood for practical reasons).
Working with urban salvage wood can be a bit of a challenge depending on how processed the supplier gives it to you. For the most part, we bought essentially rough sawn slabs of tree, and made the appropriate size lumber from those ourselves. This means making the normal cut list, but rather than cutting pieces from lumber that is already partially sized, all the pieces of lumber had to be extracted from quite large tree slabs. You get a higher yield this way (and hence a lot less waste) because you can divide the various pieces you need among the various slabs in any way you can get them to fit. This allows you, for example, to extract small face frame pieces out of parts of the tree slab that would likely have otherwise thrown out. The key is to order your cut list by size, so you find the largest pieces first, then find the next etc, until you've found a section of tree slab for every piece of lumber you need. Sometimes its hard to tell if a section of tree will yield the piece of lumber you want--for example you can't always figure out where cracks and knots are inside, so you have to cut the pieces a bit big and be prepared to make another one if during the milling process you run into a defect you can't tolerate.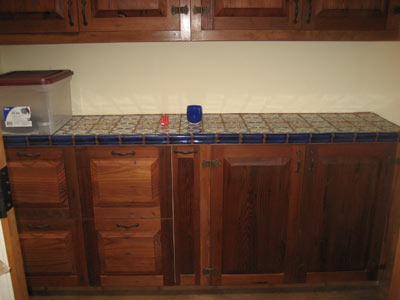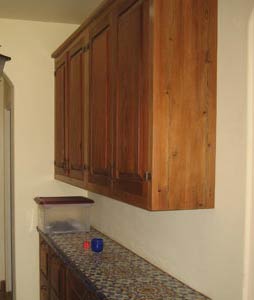 We made a large pantry cabinet (seven linear feet of lowers and uppers) out of the old redwood deck (with almost no plywood in it)--even the shelves are redwood. Because redwood is not very hard, the counter top on the lowers is Mexican talavera tile. We also made seven foot wide built-in cabinet in the upstairs office, and in this case it has no plywood at all in it, although the back and top are just the painted wall board wall and ceiling. There is a built-in cabinet in the bathroom that has plywood sides, but the entire rest of it is redwood. This cabinet sits thru the wall into the bedroom, and the other side forms a small armoire-like closet that is also made of redwood. Both of these have shelves made from scrap plywood.
There is a window seat in both houses, and the the guest house had a built-in bed, all of which are made of plywood, and this plywood accounts for most of the mainstream wood we purchased. In all three of these cases, stiffness is critically important so the plywood is all 3/4" and its doubled in some places. Each of these units has a bank of large drawers under them which are constructed of 1/2" ply due to the size of the drawers. The drawer fronts in all cases are redwood, from the old deck.
The windows and doors all have drywall returns on the top and side with bullnose corners, and the window sills are all made up of the old deck redwood. The old deck was nearly 400SF and at least 80% of it was usable, so that's how we were able to build so many things out of it.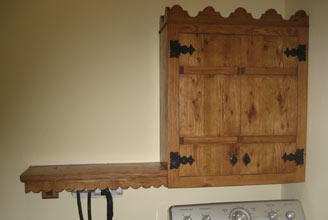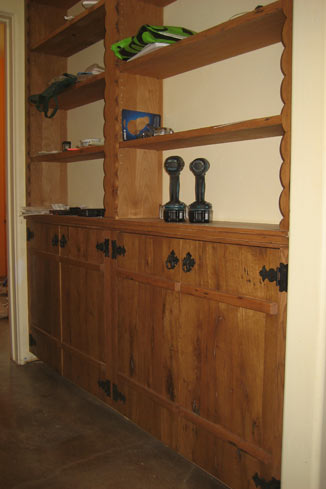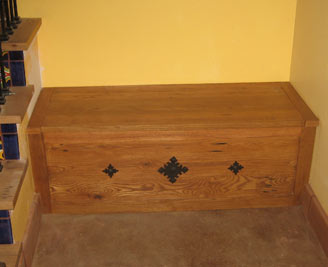 Projects from reject oak flooring. The plywood in these cabinets is scrap from other projects.
We ended up with at least 150SF of non-returnable cupped oak barn wood flooring, so we ripped it down the middle, then planed it down to 5/8 or 1/2" and made a laundry cabinet, shoe cabinet, face frame and doors for a 6'x8' bookcase, and also made plank doors to cover the access opening to the guest house hot water heater, and then still had enough left to floor a loft over the guest bed alcove.
The kitchen counters are cast in place concrete, and all the other counters are tile.